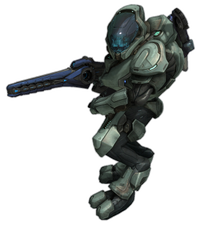 An
Sangheili Underwater Diving Suit
or SUDS is a small articulated submersible of anthropomorphic form which resembles a suit of armour, with elaborate pressure joints to allow articulation while maintaining an internal pressure of one atmosphere. The SUDS can be used for very deep dives of up to 10,000 feet for many hours, and eliminates the majority of physiological dangers associated with deep diving; the occupant need not decompress, there is no need for special gas mixtures, and there is no danger of decompression sickness or nitrogen narcosis. Divers do not even need to be skilled swimmers.
Ad blocker interference detected!
Wikia is a free-to-use site that makes money from advertising. We have a modified experience for viewers using ad blockers

Wikia is not accessible if you've made further modifications. Remove the custom ad blocker rule(s) and the page will load as expected.